E. Nhat stainless steel panel water tank is assembled from SUS 304 stainless steel module panels imported from Korea under the steel beam system. Tanks have many capacities from 1000L to hundreds of m3 for your requests. In particular, customers can order according to their own design requirements. In addition, our company also manufactures stainless steel insulation tanks using high-grade foam materials to ensure 72h continuous heat retention.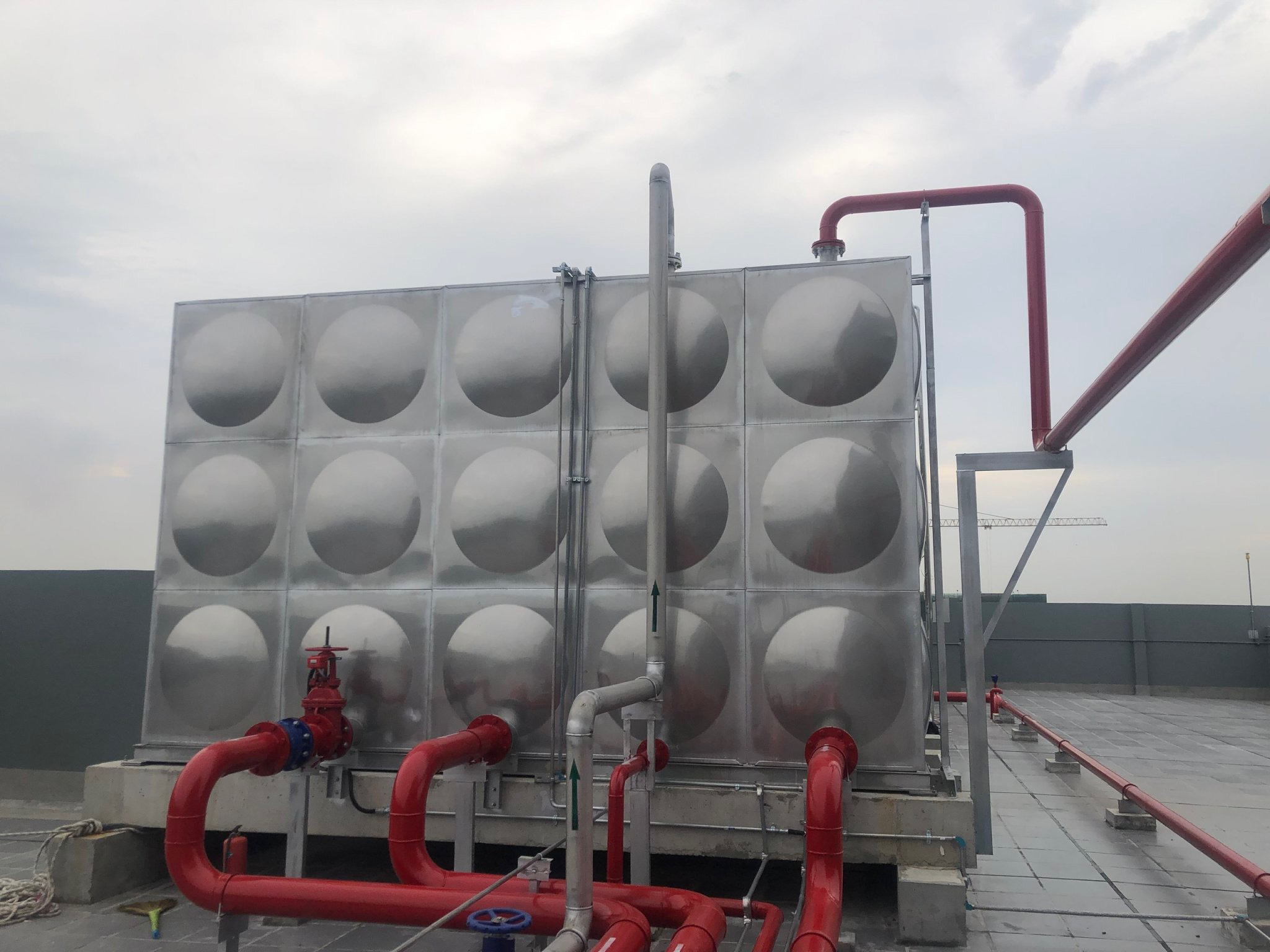 Advantages of panel water tank:
1. UNLIMITED CAPACITY
The E.Nhat stainless steel panel water tank is welded from separate stainless steel modules to meet all the needs of storage capacity.
2. INSTALLATION – FAST CONSTRUCTION
The pre-assembled water tank is simple to install in any position (ground, basement or roof). Save maximum installation time and space, easily disassemble each stainless steel module plate when moving.
3. SMALL COMPACT STRUCTURE
Module panels are manufactured by pressing stamping technology, with solid structure, high durability. The weight is many times lighter than the concrete material with the same storage capacity, reducing the load acting on the foundation and structural system.
4. DURABLE SUS 304 INOX MATERIAL
E.Nhat stainless steel assembled water tank is manufactured with high quality stainless steel SUS 304, anti-rust, shiny surface, ensuring waterproof and leakproof. With the method of welding from the inside of the tank, the outside of the tank is smooth, meticulous in every detail, creating a beautiful appearance for the tank.
5. SAFETY FOR HEALTH – ENVIRONMENTALLY FRIENDLY
E.Nhat assembled stainless steel water tank is manufactured from high-grade stainless steel material to help prevent the maximum penetration of bacteria and germs harmful to human health from the outside environment. Easy cleaning by the bottom flush method, which completely discharges the waste and sediment to the outside.
In particular, it is qualified to hold clean water and used in the food processing industry.
DURABLE – LONG TERM WARRANTY: Warranty period: 03-20 years for the whole product.