E. Nhat Industrial Joint Stock Company is proud to be the leading unit with experience and capacity in manufacturing spiral welded steel pipes in Vietnam.
Spiral welded steel pipe is produced by submerged arc welding technology under a protective layer, raw materials for production from coiled steel, shaped and welded on automation technology lines.
Spiral Welded Steel Pipe – SSAW Steel Pipe is widely used in industries such as: transportation, shipbuilding, construction, main pipeline, pump pipe, power plant circulation pipe, pressure pipe, wind pipe, pipe aqueduct…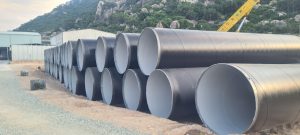 Specification of spiral welded steel pipe :
Standard: ASTM A252, ASTM 53, EN10217, EN10219, BS 5950, ASTM A572 , JIS G3443
Diameter : 500mm – 3064mm
Thickness: 6.2mm – 25mm
Length : according to customer requests
Protective coating: according to customer requests
Certificate: EN 10204/3.1B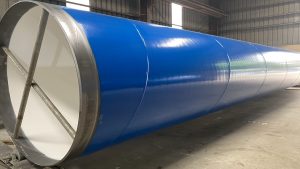 Advantages of spiral welded pipe:
(1) Steel pipes of the same width can be used to produce steel pipes of different diameters, especially for producing large diameter steel pipes with narrow strip steel.
(2) Under the same pressure conditions, the spiral weld is subjected to less stress than the straight seam, which is 75% to 90% of the straight seam welded pipe, and thus can withstand a large pressure. Compared with the straight seam welded pipe of the same outer diameter, the wall thickness can be reduced by 10% to 25% under the same pressure.
(3) The size is accurate, the general diameter tolerance is not more than 0.12%, the deflection is less than 1/2000, and the ellipticity is less than 1%. Generally, the sizing and straightening process can be omitted.
(4) It can be continuously produced. In theory, it can produce infinitely long steel pipes, with small loss of cutting head and tail cutting, which can improve the utilization rate of metal by 6% to 8%.
(5) Compared with the straight seam welded pipe, it is flexible in operation and easy to change the variety.
(6) The equipment is light in weight and has low initial investment. It can be made into a trailer-type mobile unit, and the welded pipe can be directly produced at the construction site where the pipeline is laid.
(7) It is easy to realize mechanization and automation.